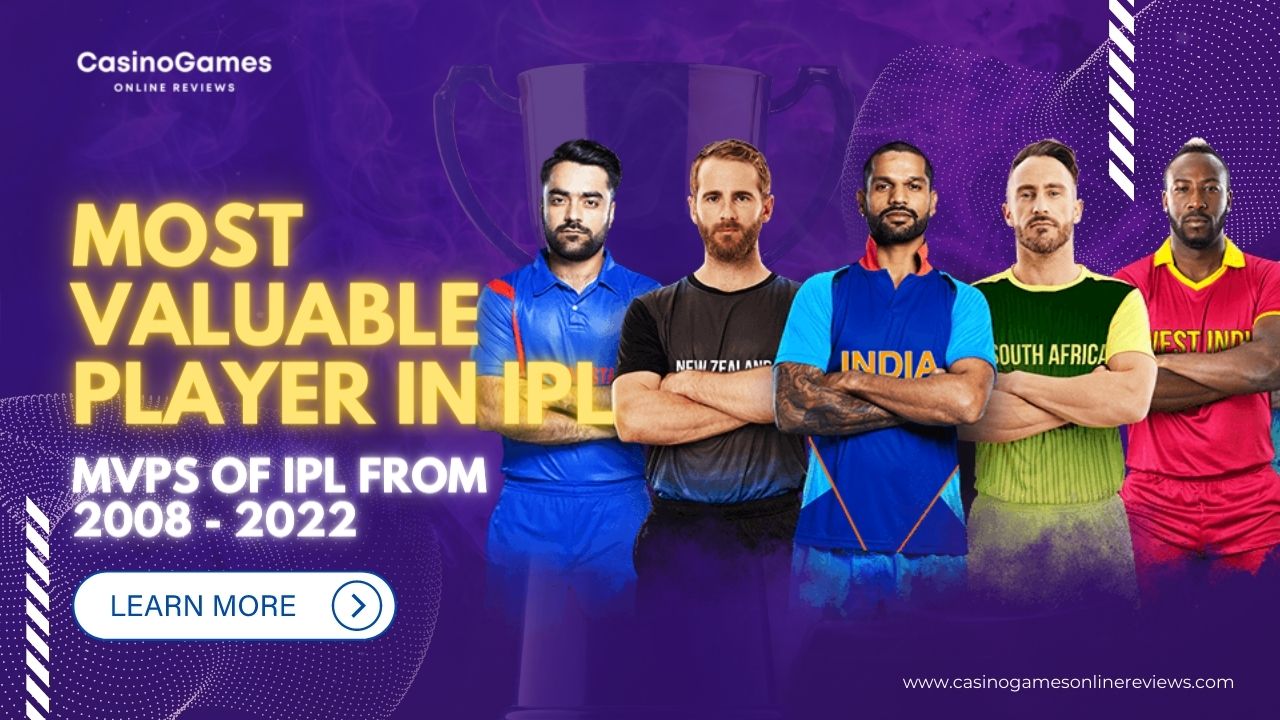 This year the IPL will be even more special, as it returns to its original format of every team having its own home. The format was used up until 2019, before the Covid times. Cricket fans are all excited about the IPL 2023, and rightly so.
Since the start of IPL, there have been many players who have performed consistently and helped their teams reach playoffs and even win the IPL trophies. Let us recognise them and appreciate their efforts in this article.
What is MVP?
MVP is the Most Valuable Player, one who performs consistently throughout an IPL season. This award started as "Man of the tournament" in 2008, and later in 2013 was named as the MVP award.
How do players get the IPL Most Valuable Player Award?
For the MVP award, there is a special rating system in place that takes into account various factors like catches, fours, sixes, dot balls, wickets, and stumpings. There are points associated with each of the factors, and the player with the most points at the end of the season is declared as the MVP.
IPL most valuable Player: 2008-2022
Following table shows the list of MVPs from 2008 to 2022. Check out if your favourite cricketer has ever been an MVP.

Top 5 MVPs in the History of IPL
Shane Watson
Shane Watson was one the finest all-rounders that the IPL has ever seen. He played well for whichever franchise he played, but realised his full potential when he joined the CSK team.
Watson has an impressive record with the bat, scoring 3,874 runs at an average of 31 and strike rate of 138. With the ball, he picked 92 wickets and also took 40 catches. After seeing Watson's contribution with both bat, ball, and in the field, it comes as no surprise that he is the most valuable player in the history of IPL.
Suresh Raina
The Chinna Thala, as Raina is popularly known in Chennai, is a big name in the IPL circuit. He is also known as Mr. IPL for his incredible consistency in the years gone by.
Suresh Raina scored 5,528 IPL runs at an amazing average of 32.51 and an incredible strike rate of 136.76. He was equally good in the field too, saving plenty of runs and holding onto 108 catches. Raina was a handy off-spinner and has 25 wickets to his name with a decent economy of 7.38.
Also Read: Who will win the Orange Cap for the IPL 2023 Season?
Chris Gayle
Chris Gayle is the boss when it comes to dominating bowlers, especially in T20 cricket. He played the game with complete freedom, and scored 4,965 IPL runs. Gayle has a batting average of 39.72 and a top-class strike rate of 148.96. He also has 31 fifties and 6 hundreds. His personal best of 175* still remains the best individual score in the history of IPL.
Along with his batting, he also took 29 catches and 18 wickets at an economy under 8.
Harbhajan Singh
Harbhajan Singh is India's one of the most successful off-spinners. He bowled exceptionally well for Mumbai Indians, Chennai Super Kings, and Kolkata Knight Riders.
Harbhajan took exactly 150 IPL wickets at an average of 26.86 and economy of 7.07. His best bowling figures are 5/18. Harbhajan was also handy with the bat and was used as a pinch hitter sometimes; his strike rate of 137.91 was impressive. He also took 49 catches.
Virat Kohli
Virat is the leading run-scorer in the history of IPL. He has amassed 6,788 runs at an average of 36.69 and a strike rate of 129.54. He has scored 46 fifties and 5 hundreds.
Virat also has 4 wickets and 97 catches to his name. He looks all set to be an MVP for the IPL 2023 season.
Player / Players who have Won the MVP Award Most Times
KKR's two star all-rounders, Russell and Narine have won the MVP award twice. While Russell was the MVP in 2015 and 2019, Narine won the same award in 2012 and 2018.
Conclusion
The MVP award is given to the most valuable player throughout the season. The chances of an all-rounder winning this award is high, as he can contribute in all three departments. Like every year, this year too there are many players who will look to raise their game and win the MVP award.
FAQs
Who was the first MVP in the IPL history?
Shane Watson was the first Most Valuable Player in the IPL history.
When did Virat Kohli win the MVP award?
Virat Kohli won the MVP award in 2016. He scored a staggering 973 runs in that season, a season that also saw him score 4 centuries.
Who will be MVP in the IPL 2023?
Shubman Gill might become the MVP in the IPL 2023 season.